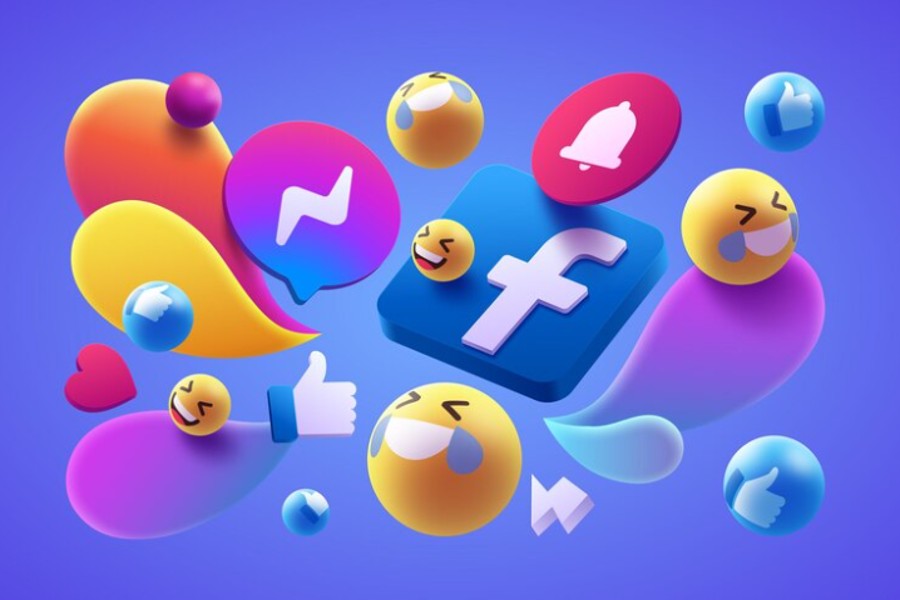 What is Facebook Marketing?
Everyone needs to know what Facebook marketing is. Yes friends, Facebook marketing is what will be discussed today. Facebook marketing is very important in today's changing digital age. Facebook marketing originates from using the Facebook platform as a strategic tool to promote products, services, brands to specific groups. To achieve specific business goals, Facebook marketing involves creating and implementing various marketing strategies.
Facebook pages serve as a central point of communication, to enhance the online presence of companies and organizations. This content includes text updates, images, videos, links to articles and blog posts, and more. Marketers can target specific demographics, interests and behaviors. Can retarget users who have already interacted with the ad.
Facebook offers a variety of advertising opportunities, including boosted posts, carousel ads, and video ads. To reach a larger audience and achieve specific goals, marketers can allocate budgets, set goals, and launch advertising campaigns.
Creating and maintaining groups of followers on Facebook is very important. Connect with users through comments, likes and messages, help maintain relationships and build trust. Facebook provides statistics and analytics tools to help marketers monitor campaign performance. These metrics can help evaluate the effectiveness of marketing efforts and make data-driven optimization decisions. For marketing, using Facebook Messenger to communicate with customers includes messaging, chatbots, and personalized communications.
Facebook helps target users who have previously interacted with content or visited websites but not taken the desired action. By partnering with celebrities on Facebook, you can leverage your existing follower base to increase reach and credibility. An effective Facebook marketing strategy requires a deep understanding of the audience, the ability to create consistent and engaging content, and the ability to adapt to the platform's changing algorithms.
What are the types of Facebook marketing?
As for marketing strategies, Facebook marketing usually takes many forms. But there are four main types of Facebook Ads or Facebook Ads Marketing:
Video Ads

Carousel Ads

Collection Ads
Facebook marketing encompasses a variety of techniques that businesses and individuals can use to promote their products, services and brands on the Facebook platform. Create and manage a Facebook page for your business or brand. This includes posting regularly, interacting with customers, and optimizing information and graphics on the site. Run targeted ads on Facebook to reach specific users based on their interests and behavior. Promote individual posts to increase reach and engagement.
Use Page Messenger to send advertising or sponsored messages to users. Make your video content accessible to a wider audience. Create ads aimed at attracting potential customers and collecting user data. Create and share high-quality, relevant content such as articles, videos and infographics. Increase traffic by sharing Facebook page content, from websites or blogs. Create or join Facebook groups in your area of expertise.
Work with celebrities on Facebook and social media to promote products and services to followers. Organize contests or giveaways on Facebook to increase visitors and subscribers. Use Facebook Events to promote and manage physical or virtual events such as webinars, conferences and product launches. For customer service, chatbots and messaging, connect with customers through Facebook Messenger.
Reach people who have interacted with your website, app or Facebook page. Track the effectiveness of Facebook marketing efforts and refine strategies with Facebook Insights and other analytics tools. To increase app downloads and user engagement, promote your mobile app with Facebook ads. You can integrate Facebook into your online store to sell products directly on the platform or to drive traffic to e-commerce sites.
Reach people who have expressed interest in your product or service but have not yet purchased. When launching a campaign, focus on increasing brand awareness among yourself and the target audience. Get involved in political or social activities through Facebook campaigns and ads.
Facebook Marketing Freelancing
Facebook freelance marketing jobs are all about using the Facebook platform, to help businesses and individuals achieve their marketing goals. It includes a wide range of services, from creating and managing Facebook ad campaigns, to content creation and strategies to increase engagement and reach. Freelancers can create, optimize and manage Facebook ads to drive traffic, leads and sales for their clients. This includes budget management, audience targeting, ad creation and more.
For effective marketing on Facebook, extensive research is needed to identify the target audience and their interests. Freelancers can use various tools and techniques to improve audience targeting. Manage the Facebook page, including regular updates, responding to comments and ensuring a consistent brand presence. Freelancers often provide insights into campaign performance through data analysis. This allows clients to make decisions about Facebook marketing strategies.
To become a Facebook marketing freelancer, you need to understand the Facebook advertising platform, social media trends and digital marketing principles. Familiarity with tools like Facebook Business Manager and Ads Manager is important. Promote services through online platforms such as: freelance websites (Upwork, Freelancer, etc.), social networks and your website. It's worth networking with potential clients and other freelancers.
Make sure your prices reflect the value you offer while remaining competitive. Depending on where you live, you may need to register as self-employed, pay taxes and consider liability insurance. The Facebook marketing industry is highly competitive and many freelancers offer similar services. To stand out, you need to highlight your unique skill accomplishments.
Facebook regularly updates its algorithm, which can affect the reach and engagement of your ads. Freelancers need to be aware and adapt their strategies accordingly. Stay up to date with industry trends and adapt to changing customer needs. Clear communication and realistic goal setting are essential. Freelance marketing on Facebook offers many opportunities for those who are good at digital marketing. By honing your skills, building a strong portfolio, and marketing your services effectively, you can build a successful freelance career in this field.
Facebook Marketing Strategy
Set clear, measurable goals for your Facebook marketing campaign. Conduct research and create detailed buyer profiles to understand audience demographics and interest points. It will help you create content that users love..Create a professional and attractive business page on Facebook. Use high-quality images, a clear profile photo (logo) and an informative cover photo.
Create a content calendar, which determines what type of content should be published and when. Mix content types like text, images, videos, and links in posts. Create valuable, relevant and engaging content that meets your audience's needs and interests. Use storytelling techniques to make your text relevant and memorable.
Maintain a consistent publishing schedule. Test different publication times to determine when your audience is most active. Reach a larger, targeted audience with Facebook ads. To maximize ad effectiveness, carefully adjust ad budget and audience settings. Test different ad formats (carousel ads, video ads, lead ads, etc.) to find the format that best suits your goals.
Respond instantly to comments, messages and reviews on your website. Increase engagement by hosting Q&A sessions, polls and contests. Use Facebook groups to build a community around your brand or industry. Regularly analyze Facebook statistics to understand the effectiveness of your posts and ads. Adjust your strategy based on what works best and optimize your content accordingly.
To reach a larger audience, build trust by collaborating with influencers that fit the brand. Use Facebook Live to host live events, product launches, or behind-the-scenes business insights. Constantly test different ads, headlines and targeting options to refine your approach. Run retargeting campaigns to reach people who are interested in your brand or have visited your website. Ensure that your Facebook marketing activities comply with data protection regulations such as GDPR along with the Facebook Advertising Rules and Regulations.
Regularly review Facebook marketing strategy to adapt to changing trends and incorporate insights from previous campaigns. Facebook's algorithms and user behavior are constantly evolving. That's why it's important to be informed and flexible. Regularly evaluate the effectiveness of your marketing strategy and make changes to achieve goals.
Earn by Facebook Marketing
If done right, making money with Facebook marketing can be a profitable business. Create a unique Facebook business page for your brand, product or service. Make sure it is well optimized and includes profile photo, cover photo and detailed "About Me" section. Create high-quality content to engage your audience. It may contain articles, images, videos and links to websites or blogs. Consistency in your publication is crucial to retain an audience.
Grow your Facebook audience by inviting friends, running Facebook ads and promoting the page on other social media platforms. Interact with your followers by replying to comments and messages instantly. Use the Facebook advertising platform to promote your products and services. Reach your ideal customers with targeted advertising, based on demographics, interests and behaviors.
Work with companies and brands that offer affiliate programs. Promote your products on Facebook page and earn commission every time you generate a sale or lead through your referral link. If you have your own products or services, Facebook can be a great platform to showcase and sell them. Create a Facebook shop or integrate a payment gateway to manage transactions directly on your website.
If you have more followers and create valuable content, you can earn from it in several ways. Facebook offers features like in-stream advertising and fan memberships to help you monetize content. Work with other brands and companies to create sponsored posts. For a fee, you can promote your products and services to an audience. Create or join a Facebook group related to your expertise and share your knowledge. Once you have a reputation, you can promote products and services subtly.
Regularly analyze Facebook statistics to understand target audience behavior and preferences. Use this data to personalize content and advertising strategies. Work with companies and brands that offer affiliate programs. Promote products on your Facebook page and earn commission for every sale or lead generated through referral links. If you are an expert in a particular field, you can offer consulting or coaching services through Facebook. Share your knowledge, host webinars and connect with potential customers.
Organize online events and webinars on topics related to your area of expertise. Participants must pay to enter these events and use Facebook to promote the event. Effective marketing on Facebook requires time, effort and an understanding of the target audience. Building credibility and trust with your followers is critical to long-term success. To maintain a positive online presence, always follow Facebook's policies and guidelines.
How to do Facebook marketing
Facebook marketing is an effective way to reach and engage audiences on the world's largest social media platform. Start by setting Facebook marketing goals. Common goals include increasing brand awareness, increasing website traffic, generating leads and increasing sales. Create a Facebook business page &  Make sure your page includes a complete profile photo, cover photo, information section and contact information.
To identify and understand the audience, use Facebook's tools. Create a content strategy to achieve goals. Create engaging, high-quality content such as posts, images, videos and stories. Consistency is key, so plan your publishing schedule.
Proactively interact with visitors, responding quickly to comments, messages and reviews. Encourage discussion and conversation about the content. To increase reach, consider using Facebook ads. You can create different types of ads including image ads, video ads and carousel ads. Use Facebook's targeting options to reach ideal users.
Highlight specific parts of posts to increase visibility, an easy way to share important content with a wider audience. Increase engagement and expand your reach with contests and giveaways. Please follow Facebook Contest Rules. Collaborate with other companies and influencers in your industry for promotion. This will help you engage your audience and increase your visibility. Create or join a Facebook group related to your field or specialization. Actively engage team members to create value and build brand reputation.
Use Facebook Messenger for customer service. This will help us respond quickly and respond to customer requests. Regularly monitor the effectiveness of your Facebook marketing efforts. Adjust your strategy based on that. To ensure your marketing is compliant, stay up to date on Facebook policies and guidelines. Calculate return on investment (ROI) of Facebook marketing campaigns. Check if your efforts are producing desired results and adjust accordingly.
Stay informed about the latest Facebook features, algorithm changes, and best practices by following Facebook's official resources and industry news. Facebook marketing is an ongoing process that requires time, effort and constant optimization. Adapting to evolving platforms and audience preferences is key to long-term success.
Why do Facebook marketing?
Facebook marketing can be an effective strategy for businesses and individuals who want to promote their products, services or personal brands. Such a large audience provides an excellent opportunity to reach a large and diverse customer base. Facebook offers advanced ad targeting options, which help you target specific demographics, interests, behaviors and even custom audiences. This accuracy allows you to reach people who are interested in your services.
Compared to traditional advertising methods, Facebook marketing is more cost-effective. You can set a budget, choose a bidding strategy and monitor ad performance in real time. Create posts to build a loyal community around your brand. Share content and interact with your followers. Track engagement, click-through rates and conversions to refine marketing strategies and drive better results. To retarget users who have interacted with your website or app, you can use the Facebook Pixel and Custom Audiences. It helps remind potential customers of your products and services and increases your conversion rate.
Since many users access Facebook through mobile devices, optimize your ads for mobile viewing. This is crucial in today's mobile-centric world. Facebook marketing helps to increase awareness of your brand and make it more recognizable and memorable to your target audience.
By regularly interacting with followers, sharing content and responding to comments and messages, you can build community around your brand on Facebook. A strong presence on social media platforms will help you stay competitive in the industry. Facebook helps you reach national and international audiences across borders.
Checkout this article: Facebook Ad Audience Targeting