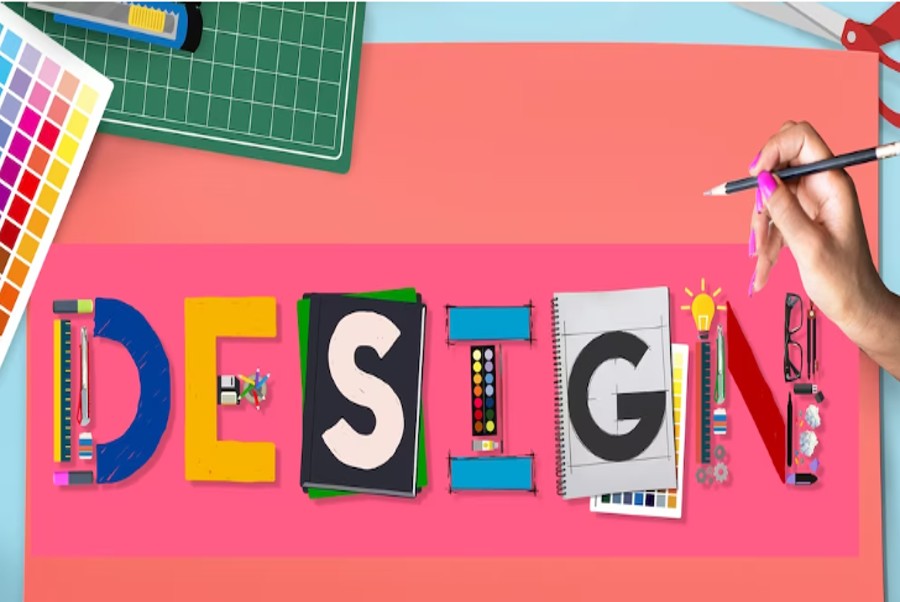 Graphics design
Graphics design is an industry where professionals create visual content that easily grabs attention, acts as a bridge to convey messages. Many people who work in print and online media can do a little designing. Know how to edit pictures. Many people edit photos, edit images or draw with apps on mobile and computer as a hobby. But none of them can be called graphics designers. You can't earn online by doing all these things.
Knowing computers and taking professional computer training by taking courses (basically office courses) are completely different. If you are going to interview for a good job somewhere, you will want to know what computer programs you know. Did you learn in any institution? Also, a skilled and experienced person who knows the basics of graphic design can be called a graphic designer.
What is graphic design?
A type of graphic design is a picture created with colors arranged to make your idea more attractive. For those who are interested in learning graphic design, this is not important. As he knows, understands and understands the financial importance of the work, he wants to make a career in graphic design professionally. want to learn A freelancer skilled in graphic design can earn a lot of money online every month by working in outsourcing way.
Graphics design is anything visual made using text, images, color and format to bring one's ideas, imaginations into reality. For that there is no specific method of designing graphics. Graphics can be designed in many ways, everyone is an expert in different ways. Someone is very good at making logos. Someone skilled in video editing. Graphics design is a big issue. People are working in its branches. Not everyone can do everything. What is graphic design for that? You cannot answer that in one word.
The one who makes black and white and color artistic images (reports, designs) with thinking, experience, statistics (statistics, data) using various software including Photoshop, Illustrator is called graphic designer and the one who does the work is called graphic designer. Although everyone is a graphic designer, each has special skills and techniques on different software. As a result, each person is known as the best designer on each subject.
The graphics industry is changing and improving day by day. Designers have to adapt themselves to new tools and techniques for work or business. Because customers always want something new, demand a little more beautiful, more attractive design than others. In the beginning, the customer said, I came to you to get something new.
History of Graphic Design:
Graphic design is an ancient craft. Its history is 17 thousand years old. Such crafts were done sitting in the caves of ancient Egypt. From the ancient times, the women of Bengal have hand-made noxikatha and various designs even today
It is done through different software. In the 1920s, graphics were first used in the printing industry in the United States. Logos were created. At that time, graphics were used for appeal and marketing. Gradually it started gaining popularity among the visitors.
How to learn graphic design?
If you want to develop yourself as a graphic designer or want to take it as a career, you must have O Level, Secondary School Certificate (SSC) or equivalent educational qualification. Because you must have a little writing, reading, communication ability, great interest in drawing. You can even be an Arts student. Just be patient and learn the work. Graphic design is now taught all over the country. 6-12 months diploma in government or private institutions.
Government certificate will be useful when going to work on freelancing websites to earn online. If you want to earn money online by competing globally, you need to learn graphic design well. Learn all the things that you can easily do, that you are interested in. If you know the work of graphics, there will be no shortage of orders. Those who do not know the work, do not get orders.
What software is needed to learn graphics design?
02. Adobe Photoshop

03. Adobe in Design

04. Adobe Lightroom

05. CorelDRAW

06. You can learn QuarkXpress.
From simple to advanced level graphics design can be done with the above softwares.
Earn by designing graphics
By working 6/8 hours in Banglabazar of capital Dhaka or any press or printing house, you can start a job with a salary of 20/25 thousand taka, in Andarkilla of Chittagong with a salary of 12/15 thousand taka per month. Moreover, textile mills, EPZs have job opportunities in domestic and foreign big companies for 50 thousand to 1 lakh rupees. Freelancing job sites have more earning potential than working for a month. How much you can earn depends on your skills and experience.
You should visit Nineteen Designs, a design-based freelance job site. Your earning potential will be opened. The eyes can go up to the forehead when you see the income figure. Visit – Nineteen Designs
The principles of graphics design are like building blocks. Each layer builds up until you've laid the foundation to create something incredible, whether you're designing a logo, a website, or a custom image. If you want to get the lowdown on all the graphic design basics, you've come to the right place because we've got them covered.
Here's a look at what you need to know to make all your design rocks:
a) Space

b) Equilibrium

c) Hierarchy

d) Lines and shapes

e) Color

f) Typography

g) Formation of taxa

h) Branding

g) Space
Balance and Alignment:
All elements of this poster are properly balanced – which adds to the overall effect of the design. Poster design by Schwinn.
When it comes to design, you can certainly be creative, but you have to strike a balance. Think of it this way: If you were decorating your living room, you wouldn't try to squeeze sofas, reclining chairs, coffee tables, and end tables into a small corner, right? No, you moved the pieces throughout the room to create balance and alignment. With graphic design, it's exactly the same.
Hierarchy: You explore how to use space and balance. But how do you draw attention to your core elements and make sure your messages don't get muddled?
Lines and Shapes: its form the foundation of your designs & how you use them can completely transform how a design looks and feels.
Color: Color is much more than a rainbow of colors on a bag of Skittles. Color effect. Color power. Engagement of color drives. But only if you know how to use it.
Packaging Design:
The colors you choose for your designs are not only important to your overall aesthetic, but also to how your designs connect with your audience (which ultimately drives results).
Typography: The words you use in own designs are very important but so are the fonts you use to communicate those words.
Texture: this is a surefire way to add depth & dimension to your designs, making them more visually appealing. Texture makes graphic design feel alive. Designs by Jacope Severitano, Greenblatt-Wexler and Pavel Nolbert.
Whether you add an original 3D element to a printed piece like a business card, or create an illusion through design, texture makes your designs more memorable. But this is very hard and complicated to get right. If you don't nail the texture, your design can feel busy or overwhelming, and that's never what you're going for.
Branding: Branding is how you bring your business, products, services and story to life. How did you do it? We've covered all of the graphic design basics in this guide to creating a brand that's true to who you are. There is nothing "basic" about great design. You can create great designs by looking at people's work.
Graphics design with mobile
Graphic design is a growing field and the demand for specialized and skilled designers is increasing. When you're looking for the right person to take on a design job, knowing the different types of graphic design will help you identify the expert you need.
Due to the high demand of graphic designers worldwide, high online income, opportunity to work from home or convenient location and possibility to create new artworks, most new freelancers want to learn this job. At present, you can use various mobile apps to create videos, images, images, and design graphics. Many are creating beautiful videos and animations. Mobile edited videos are being broadcast daily on online channels.
Checkout this article: Learn Web Design – Build Your Career!