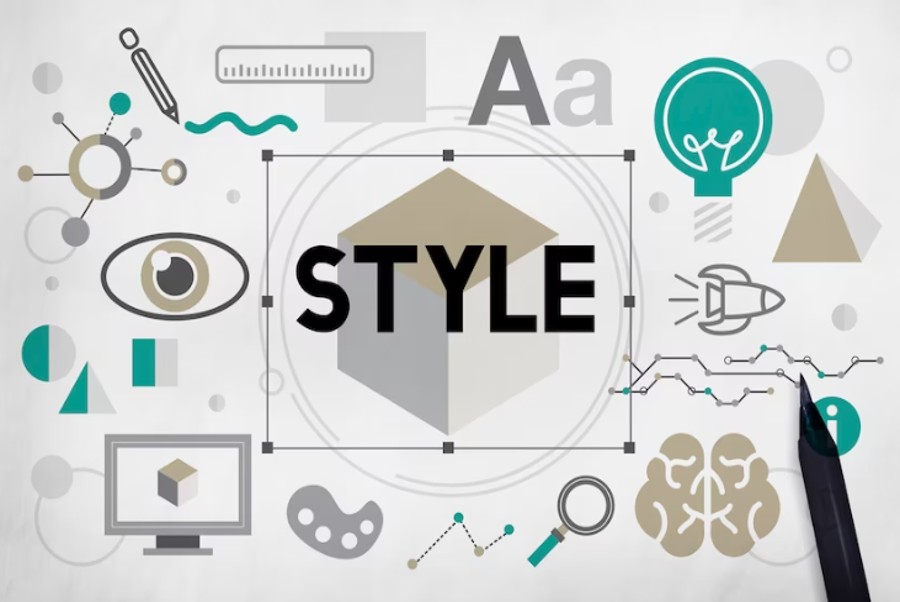 8 types of Graphic Design
If you are looking for a well skilled and experienced graphic designer for the marketing work of your business then you can choose any one of the following eight categories of designers. You can choose the category of skilled designer that matches your needs. Or you can advertise for experienced designers (freelancers) for such work. You can search on various freelancing job sites.
1. Visual Brand Identity Graphics Design/Branding Design
A brand is a positive relationship between a business, a business organization and its customers, consumers of services. Brand items mean quality, quantity and no question about durability and sustainability. Eyes can be bought. The price is also fixed. one price So is visual identity graphics design. Visual elements convey the look of the brand through images, shapes and colors.
Visual brand identity graphics design/branding requires skilled graphic designers. One who prints pads, notebooks, calendars, mug prints, wallet prints, diaries for that establishment using a group or company's logo, writing style, colors, plates and images, it is done as company branding. Here the designer represents the company as a brand designer.
Designers experienced in visual identity graphic design work with brand partners to help create assets such as logos, typography, color palettes and image libraries that represent the brand's expressiveness. In addition to standard business cards and corporate stationery, designers often publish a set of visual brand guidelines (style guides) that are continued over time. This guideline helps ensure brand continuity across future applications.
This design is one of the good and most common types of design as i listed. Visual identity graphic designers must have a general knowledge of all types of graphic design to create appropriate design elements across all visual media. They also need excellent communication, conceptual and creative skills and a passion for researching industries, companies, trends and competitors.
2. Marketing and Advertising Graphics Design
When people think of graphic design, they think of marketing and advertising. Organizations adopt marketing strategies based on consumer demand and response. Great marketing engages people based on their wants, needs, awareness and satisfaction with a product, service or brand. As people will always find visual content more engaging, graphic design helps organizations to promote and communicate more effectively.
Marketing designers work with owners, managers, or marketing professionals of organizations to create resources for marketing strategies. They may work only alone or as part of an internal or very creative team. Designers can excel in certain types of media (especially vehicle wraps or magazine ads). Digital design of graphic design marketing and advertising is able to attract more consumers or users.
Example:
Postcards and leaflets

Advertisements in magazines and newspapers

Posters, banners and billboards

Infographics

Brochure (Print & Digital)

Stickers affixed to vehicle exteriors

Signing and Trade Show Exhibits

Email Marketing Templates

Power point presentation

The menu

Social media ads, banners and graphics

Creating banners and retargeting ads

Create images for blogs and websites
3. User Interface Graphic Design/Web Design
A user interface (UI) is how a user interacts with a device or application. UI design is the process of designing interfaces that make them easy to use and provide a user-friendly experience.
A UI includes everything the user interacts with, including the screen, keyboard and mouse, but in the context of graphic design, UI design focuses on the user's perspective and the design of on-screen graphic elements including buttons, menus, micros, and more. Balancing aesthetic appeal with technical functionality is the primary task of a UI designer.
UI designers specialize in desktop apps, mobile apps, web applications and games. They work closely with UX (user experience) designers (who define how the app works) and UI developers (who write the code to make it work).
UI designers must have excellent graphic design skills and a great understanding of UI/UX principles, ability to lead a team supporting both responsive design and web development. Along with graphics applications, they need to have knowledge of programming languages like HTML, CSS and JavaScript.
Example:
Web page design

Theme Design (WordPress, Shopify, etc.)

Game Interface

App design
4. Graphic design related to publishing
Publishing houses have been in direct contact with consumers for a long time. Publishing companies print a classic type of design — thing books, newspapers, magazines, and catalogs. However, digital publishing has grown significantly recently.
Graphic designers who specialize in publications work with editors and publishers to create layouts with carefully selected typography and accompanying artwork, which includes photography, graphics, and illustrations. Publishing designers can work as freelancers, as members of a creative agency, or in-house as part of a publishing company.
5. Packaging graphics design
Most products require some packaging to protect and prepare them for storage and distribution and sale. But packaging design can communicate directly with consumers, making it a very valuable marketing tool. Every box, bottle and bag, every can, container or canister exudes a brand image.
Packaging designers create concepts, create print-ready files and develop mockups for a product or service. This requires expert knowledge of printing processes and a deep understanding of industrial design and manufacturing.
6. Motion Graphics Design / Animation Design
Simply put, motion graphics are graphics that move. This may include animation, audio, typography, imagery, video and other effects used in online media, television and film. Animation has skyrocketed in popularity in recent years as technology advances and video content becomes mainstream.
"Motion Graphics Designer" is a somewhat new feature for designers. Usually reserved for TV and film, technological advances have reduced production time and costs, making the art form more accessible and affordable. Now, motion graphics is one of the new types of design and is available on all digital platforms, which has created all kinds of new fields and opportunities.
Environmental graphics design connects places to places in scenes to improve their overall experience by making places more memorable, interesting, informative or easier to navigate. Environmental design is a broad design, here are some examples:
For example:
Signature

Wall murals

Museum exhibitions

Office branding

Vehicle direction display guidelines

Interior of retail store

Stadium branding

Events and conferences are arranged
WiFinding is a specific type of environmental graphic design that consists of strategic signatures, landmarks, and visual cues that help people identify where they are and where they need to go so they can get there without any confusion.
Environmental graphic design is a multidimensional practice that merges graphic, architectural, interior, landscape and industrial design. Designers collaborate with any number of people in these fields to plan and implement their designs. That's why designers usually have education and experience in both graphic design and architecture. They must be familiar with industrial design concepts and be able to read and sketch architectural plans.
8. Art and illustration for graphic design
Graphic art and illustrations are often seen as synonymous with graphic design, but they are each quite different. Designers create compositions to communicate and solve problems, graphic artists and illustrators create original works of art. Their art takes many forms, from fine art to storytelling paintings.
Although graphic art and illustration are not technically types of graphic design, there are so many things created for commercial use in the context of graphic design that you can't talk about one without the other.
Graphic artists use any combination of media and techniques to create their work as they collaborate with writers, editors, directors, marketers and art directors across all graphic design genres. They often have a foundation in animation, fine arts or architecture and many more.
Checkout this article: Learn Graphics Design – Why And How To Learn!