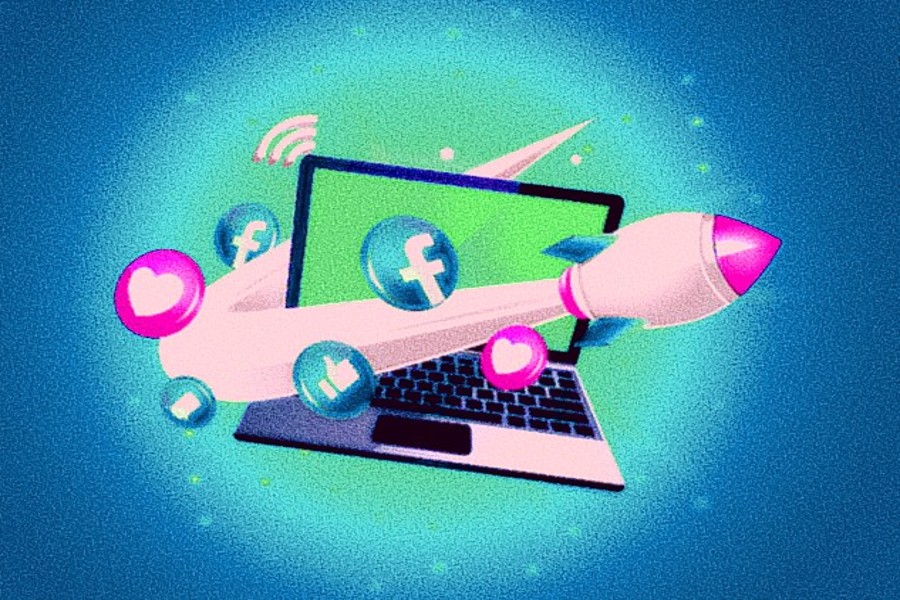 Facebook Boosting
In the blue-white world of Facebook, in the crowd of countless pictures, writings or videos, some content suddenly makes us curious; Arouses interest in a particular product through language-display or strong messaging. All of us have been more or less exposed to this experience in the online world, constantly being. Have we ever thought that Facebook is magically presenting these advertising content right in front of us!
Facebook Paid Advertising
The system behind the system that I have been talking about so far is basically 'Facebook Paid Advertising', which uses Facebook's large number of global customers and other apps it owns, such as WhatsApp and Instagram, to deliver any advertisement to the customer. The app's massive user base of 2.2 billion daily and 2.8 billion monthly users has attracted everyone from startups to big companies to use these apps as advertising mediums.
Facebook marketing is currently one of the most popular means of getting your services or products to the doorsteps of customers very easily and at affordable prices, its capabilities and effectiveness are increasing day by day. Analysts believe that this trend will continue to increase and not decrease.
Why is Facebook advertising necessary for business expansion?
Facebook's New Policy: Last year, Facebook has formulated new policies keeping in mind the needs and privacy of their customers, in which the content uploaded from the user's friend list from various pages and groups is given more importance. As such, the chances of that ad reaching the consumer's feed is greatly reduced if it is not currently paid i.e. sponsored content.
The more customers, the more chances!
Facebook's current subscriber base, or to be more specific, its huge active audience, has immense potential for advertising campaigns for any company or startup! Through paid advertising, advertising can be easily reached from this large number of customers to a target audience.
Continuous performance improvement based on results
Another unique benefit of Facebook paid advertising is that it regularly monitors how your ad is responding to your target audience, if at all – or what changes can be made to increase its effectiveness; With the help of its powerful algorithm, the data will also help you make a variety of decisions, resulting in increased promotion, promotion!
What is required for Facebook paid ads and Facebook Boosting?
Not known about the importance of paid ads and boosting. But the thing is, what is the way of boosting or paid advertising? Something quite difficult? Not at all! You can join this process only if you can patiently complete some simple steps. For example:
Endorsement of your credit card
In very simple terms, the purchase of dollars is called an endorsement. Credit Card Endorsement If you have a prepaid, dual currency or credit card with sufficient balance, and you want to use the US dollar equivalent of Bangladeshi taka against that card, you will need to endorse your credit card.
a) A valid passport of the person holding the card must be required to boost the page with the card. However, it is necessary to remember that when the passport expires, it cannot be boosted with this passport; Before this, the passport should be renewed. Page boost can be done easily with popular cards like Mastercard, Visa etc. Any person, irrespective of age, can endorse a maximum of $5,000 in a year as per the passport. Let's say you endorsed $5,000 in February 2022 and spent the entire amount in February. In that case, you won't be able to endorse or spend any more dollars until January 2023, a full year.

b) There is a limitation on card endorsement. Let's say, Ratul went to endorse the passport with the card from the bank, and asked the officer in charge to endorse the card for $2000. This means, that year Ratul Sahib can spend up to 2000 dollars for that card. From the remaining 3000 dollars, Ratul Sahib can later endorse some more dollars if he wants, but it must be in the total of 5 thousand dollars annually. Those concerned advise never to endorse the entire limit i.e. 5 thousand dollars at once. Because, after you have endorsed five thousand dollars the 1st time, for some sudden, unexpected reason you need to endorse cash. Then again one has to go through a complicated process of canceling the dollar endorsement and going through the long process of converting to cash.

c) Check whether the card supports 'dual currency' or not. There is no reason to fear if it is not supported, this feature can be easily activated by calling the customer service of the concerned company/bank!

d) Many credit cards may not be boosted even after following all of the above steps. In that case, it should be understood that the 'e-commerce' or 'online transaction' feature of the card is not activated – it can be activated easily by calling the concerned institution.
Set in your Facebook Business/Ad Manager
First, download the Facebook Business Manager app and sign-up. Enter business details, your name and click on 'Submit'. Must have at least one Facebook page for own startup/company, otherwise Business Manager will not work. For this, go to Business Manager Homepage > More Tools > Business Settings > Accounts > Pages to complete the process.
Now go to the taskbar on the left side of the home page and complete this process with the help of 'Create or Add a Facebook Account' > Add Accounts > Add. Page can be managed in both admin and employee roles. You will get a detailed description of what work is done in which role, you can select accordingly.
Billing and Payment Information
Find the Add Account Settings option from the taskbar. From there access payment settings. From here you can see adding new payment method, changing current payment method, spending limit, next bill- etc.
1. Add payment option: Select which payment method you want to add from Add payment method. Click the Continue button with the required information.

2. Change payment method: By clicking on the 'three dots' next to the payment option, you will see the edit option. However, primary source of payment cannot be changed, after adding a new payment method the previous one can be deleted.

3. Billing: Billing is done in two ways – automatic and manual. Manual payment is 'pay-as-you-go' i.e. the bill is determined based on the consumption, while automatic billing is completed after reaching a monthly or certain threshold. This method is relatively complicated compared to manual bill payment method.

4. Setting Account Spending Limit: It is possible to set a limit and save it by clicking on the 'three dots' on the right side of the 'Account Spending Limit' option. This is particularly beneficial when working with an advertising agency, as this can be done by setting specific spending limits to ensure that the agency does not spend more than its allocated bill.
Step by Step Guide to Facebook Boosting (Best Practices)
Following are the steps of Facebook page boosting in brief:
First enter the Facebook page.

Click on the blue 'Boost Post' button next to the post you want to boost.

Mention the type of performance or results you expect from the boosted post (eg, get more messages, get website visitors, receive more phone calls, etc.).

Also selecting 'Automatic' to boost posts can be helpful.

Determine which option to show at customer level.

Select your audience. That is, decide which category of consumers you want to reach primarily with the boosted post.

How many days or times (eg, weekends or afternoons) you want to boost the post should also be strategically determined.

Set your budget.

Check which platform (such as Facebook as well as Instagram) or payment method you want to pay for advertising.

Check your entire boosted post draft once and click on 'Boost Post Now' option if you are completely sure.
By following these step-by-step steps, you can boost any one or more posts on your page. Here are the steps in detail:
Proper use of Facebook Ad Manager: Facebook Ad Manager can be said to be the key to defining your advertising campaign and strategy! It can be used to set up ad campaigns, manage or change content, define audiences, check the effectiveness of ad campaigns, etc. To properly utilize the various benefits of Ad Manager, one needs to know about its various features, which have already been discussed earlier.

Setting a Target: The option to set a campaign objective is available from the Ad Manager using the green 'Create Ad' button. For example: Whether the campaign is awareness, consideration or validation or conversational communication – it needs to be decided. The ad manager will also tell you which option the campaign will run on if you select it. Now you need to give your campaign a well-thought-out, catchy name. This is it! Your campaign is done!

Audience definition: Needless to say, wrong audience definition can completely ruin a campaign that you have built on calculations, money and effort. Things to keep in mind in determining the right audience-




-Location (Country, Division, District, Zip Code or Mile Radius)




-Age and gender




-Language




-Educational qualification (subject of study, institution etc.)




– Areas of common interest (entertainment, politics or sports)




-Consumer's usage habits (what type of product they prefer to buy, how much they spend, how they spend, etc.)




– Expenditure amount

Campaign Budgeting: Facebook provides its users with a variety of budgeting options. For example: how much will be spent daily or how much is being spent in the whole campaign etc. This cost can also be divided in other ways, namely: CPC and CPM. CPM is the cost per 1000 times your ad is displayed to a customer and CPC refers to the number of times a customer clicks on your ad. Costs can also be set through manual bids (the maximum amount you want to spend per link click).

Decide where you want the ad to run: Decide whether you want the ad to run on a desktop or mobile newsfeed, or on another device, or in an application (eg, Instagram). Additionally, there is an option to decide whether the ad will be displayed in the right hand column for Facebook Audience Network or Desktop.

Ad Format: At this stage you need to decide in what form you want the ad to reach the consumer. It can be defined as an image, video or as a slideshow, carousel or collection. Each type has its own set of features that Ad Manager will show you with that type. Accordingly, you need to decide which one will best serve the purpose of your ad.

Place Order: Now by clicking on the green 'Place Order' button you will see if your created add has violated any kind of community rule.

Effectiveness Check: Here you can monitor all the information on how successful your ad is in promoting the product or if it is successful at all. Some important points to note include:




-Monitoring how many times the ad is clicked.




– Check how many times the ad has been viewed.




-Conversion rate i.e. monitoring the number of consumers who clicked on the ad, how many actually bought the product.
By following the steps above correctly, your ad campaign will be able to effectively place itself in the feed even from within a consumer's friendlist post!
Checkout this article: Google Ads VS Facebook Ads